The Club House menu //
The chef, Didier Sanchez, offers traditional and modern cuisine with a new menu concocted by him to delight your taste buds. The menu offers a selection of salads, a bowl & Co … New in particular an avocado toast to enjoy without moderation! As for the dishes, a land & sea selection according to your desires!
For delicacies, the Chef offers you a beautiful palette of sweet flavors without forgetting our selection of Barbarac® ice cream.
Discover the new season menu ! Enjoy your meal !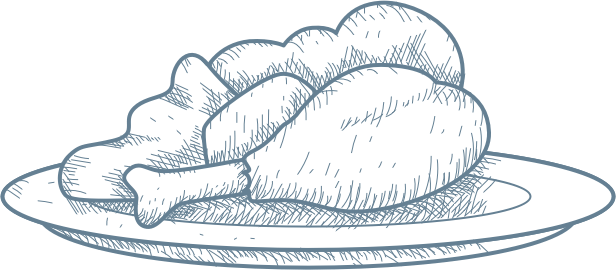 Salmon Club bowl
Thaï rice, avocado, grated carrot, cucumber, mango, radish, smoked salmon, homemade citrus sauce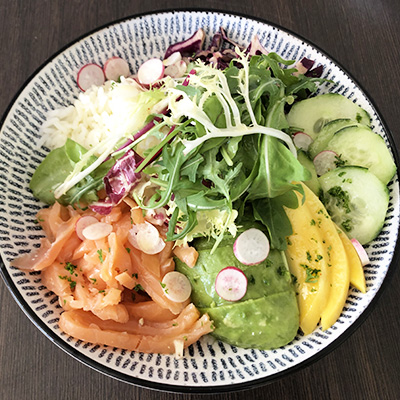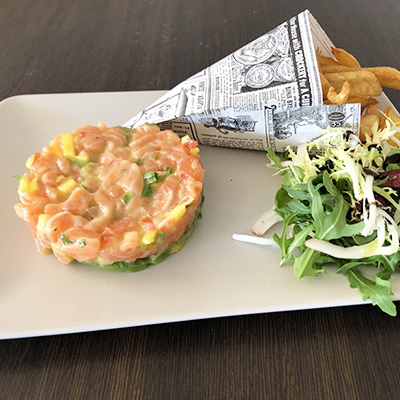 Exotic salmon tartar
avocado, mango, coriander, spring onion, tomato, citrus sauce, green salad
Raspberry pie
Fruit tart of the day homemade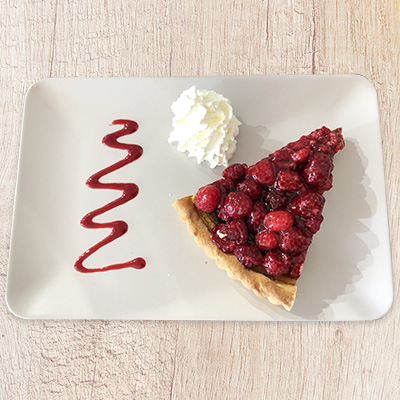 Chicken Caesar salad / 16,00€
Caesar salad with chicken, homemade sauce
Salmon Caesar salad / 17,00€
Caesar salad with smoked salmon, homemade sauce
Goat cheese salad / 17,00€
hot goat cheese with bacon on country bred, green salad, apple, nuts
Tuna fresh salad / 16,00€
Fresh salad with avocado, tuna, grapefruit, orange, shallot, homemade citrus sauce
Salmon fresh salad / 17,00€
Fresh salad with avocado, smoked salmon, grapefruit, orange, shallot, homemade citrus sauce
Club bowl / 16,00€
Thaï rice, avocado, grated carrot, cucumber, mango, radish, green salad, asian sauce
Chicken Club bowl / 17,00€
Thaï rice, avocado, grated carrot, cucumber, mango, radish, chicken, asian sauce
Salmon Club bowl / 18,00€
Thaï rice, avocado, grated carrot, cucumber, mango, radish, smoked salmon, homemade citrus sauce
Avocado Toast/ 14,00€
Country bread, avocado, tomato tartar little spicy, feta cheese, balsamic cream with green salad
Roasted camembert/ 14,00€
Roasted garlic & rosemary camembert, country bead toasts, green salad
Chicken Spring rolls/ 15,00€
Spring rolls 6 pieces, green salad, sauces and fresh mint

Chicken & vegetables tagliatelle linguine / 17,00€
Croque Monsieur – french fries & green salad / 13,00€
Croque Madame – french fries & green salad / 14,00€
Omelette with herbs – french fries & green salad / 14,00€
Ham & cheese omelette – french fries & green salad

Caramel cream homemade / 7,00€
Fruit tart of the day homemade / 8,00€
Chocolate cake homemade / 8,00€
Ananas carpaccio / 9,00€
Fresh ananas & lemon sorbet Barbarac®
Rum baba* / 9,00€
Rum baba chantilly cream & almonds
Waffle Nutella® or maple syrup or chantilly cream / 8,00€
Coffee, tea or infusion gourmand / 10,00€
Cappucino gourmand / 11,00€
Tea or infusion Nunshen® gourmand / 12,00€
*Alcohol abuse is dangerous for health. Consume with moderation.
Net prices – service included